Advertisement for my up coming Party!
Warning: Following is a shameless promotion of not only my party but my naked bod, No Cuts!

Scantally Clad 2004
Private Theme Party
Open Minded Need Only Apply


The "Scantally Clad" Party is the greatest party in Hattiesburg MS for creative exhibitionists and curious voyeurs alike. It debuted in 2001 with an impromptu party thrown by Sarah (aka Nailbunny), that later in the evening would break out into a fully nude shindig. This impromptu party would later be known as "the naked party>" The one year anniversary of "the naked party" sent its attendess soaring for another such event, so Rocky took it upon himself to host the first official Scantally Clad Party in August of 2002. The idea behind the "Scantally Clad" party is that for one night its hosts are able to create a fantasy enviornment where people can come together and get all dolled up in very revealing or "scandalous" costumes that are limited only by their creator's imagination. Due to its popularity the "Scantally Clad" party continues to be an ongoing annual event, which is anticipated by all of its past and future attendants.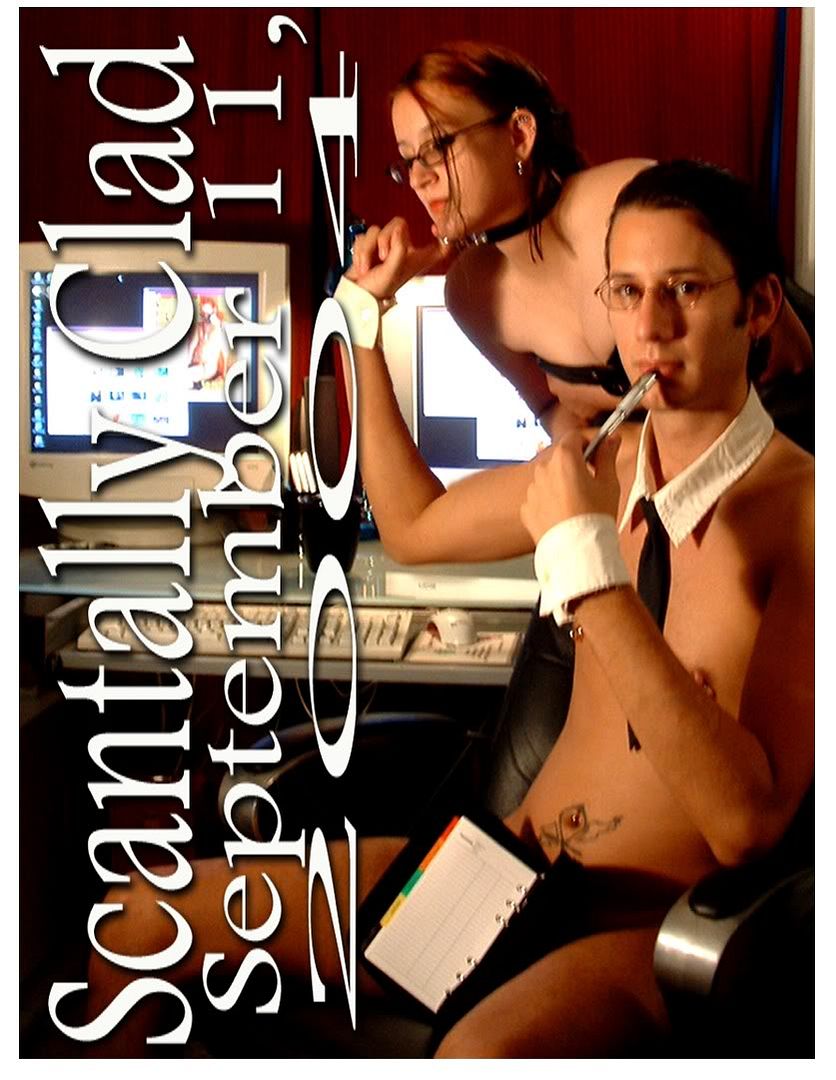 September 11, 2004
1009 North 29th Ave
Hattiesburg, MS 39402
9:00pm
$10.00 donate for admision
18+ to enter 21+ to drink



1.) The Un-Dress Code rule:

Male- Only allowed to wear one actual article of clothing.
Female- Only allowed to wear two actual articles of clothing.
Other- Those people who choice to "cross dress" will be judgedd by the criteria governing the gender in which you are imitating.
Exceptions- The only exceptions to the Un-Dress Code rule are event staff.

*Keeping in mind that creativity is the key: accessories, socks, and shoes do not count as articles of clothing. An article of clothing is defined as "a covering", so anthing that can be consdiered a covering will be coutned as one article od clothing. The iaead is to be 'scantally clad,' meaning that if an accessory is used as "a covering" it too can be counted as one article. So those of you who've decided that you're going to sew 200 socks together to make a full dress... You are out of luck, but keep in mind that works both ways... If you cut up a pair of jeans so that it really doesn't "cover" anything it becomes an accessory and will not be counted as san article of clothing. Also realize that skin isn't the only thing that's scandalous, while a full aviator suit as one article of clothing would nto be acceptable a skin thight full body latex unitard would be perfectly acceptable! The door person will issue judgment upon arrival of every person and whether said person's costume will be acceptable for entry into the venue/establishment ( the only opoeple that will be given the authority to "over rule" the judgement of the dor person will be the event's host/hosts). Dress code will be strictly enforced.

2.) The Oh! No-Photo rule:

You may not take a photo of anyone without the subject's prior consent. In doing so you will be asked to forfeit the image.

3.) The Momma Said rule:

Momma said, "If you don't have anything nice to say keep you damn mouth shut!" Don't pick or make derogatory comments about others or their outfits. It's not cool and you will be asked to leave

4.) The Wild Ride rule:

There will be a Undressing Room on site for those of you who don't want to don you unessemble in the car on the way to the party. And we don't suggest that you do so. It is the buckle of the bible belt after all. The Undressing Room will be located prior to entry.

5.) The Paparazzi Rule:

Don't advertise this party to everyone. It is an invite only party. This is a public message to peak people's interest about the party. I love my LJ friends and thought some of you might be interested. Whether you are or not don't go spreading the word. You can leave that up to me. This invite is for your eyes only (and maybe your close friend or BF/GF)

6.) The UnDress to Impress rule:

There will be a costume contest so if you plan on entering dress you best themed costumes are always fun.

Look for more information As the kick off date gets nearer. This is only a brief glimpse of the rules. More detailed rules will be available to those who are intersted.


SINcerely,
Rocky